Support letterpress printing in York!
FRIENDS OF THIN ICE PRESS
Become a friend of Thin Ice Press to support student learning and community outreach and build a new future for letterpress printing. Join our growing community of printing enthusiasts with a  donation of £40. As a sponsor, you will play a vital role in helping us revive and celebrate York's rich heritage as a printing centre. Through innovative teaching and hands-on learning, the Press makes printing and publishing history tangible for students, researchers, and our local community. Friends of Thin Ice Press will receive the following: package of printed ephemera, our Press mailing list & Christmas card, exclusive invitations to Friends events, & a canvas Thin Ice Press tote.
OUR STORY
Founded in 2018 at the University of York by Helen Smith and JT Welsch, Thin Ice Press is a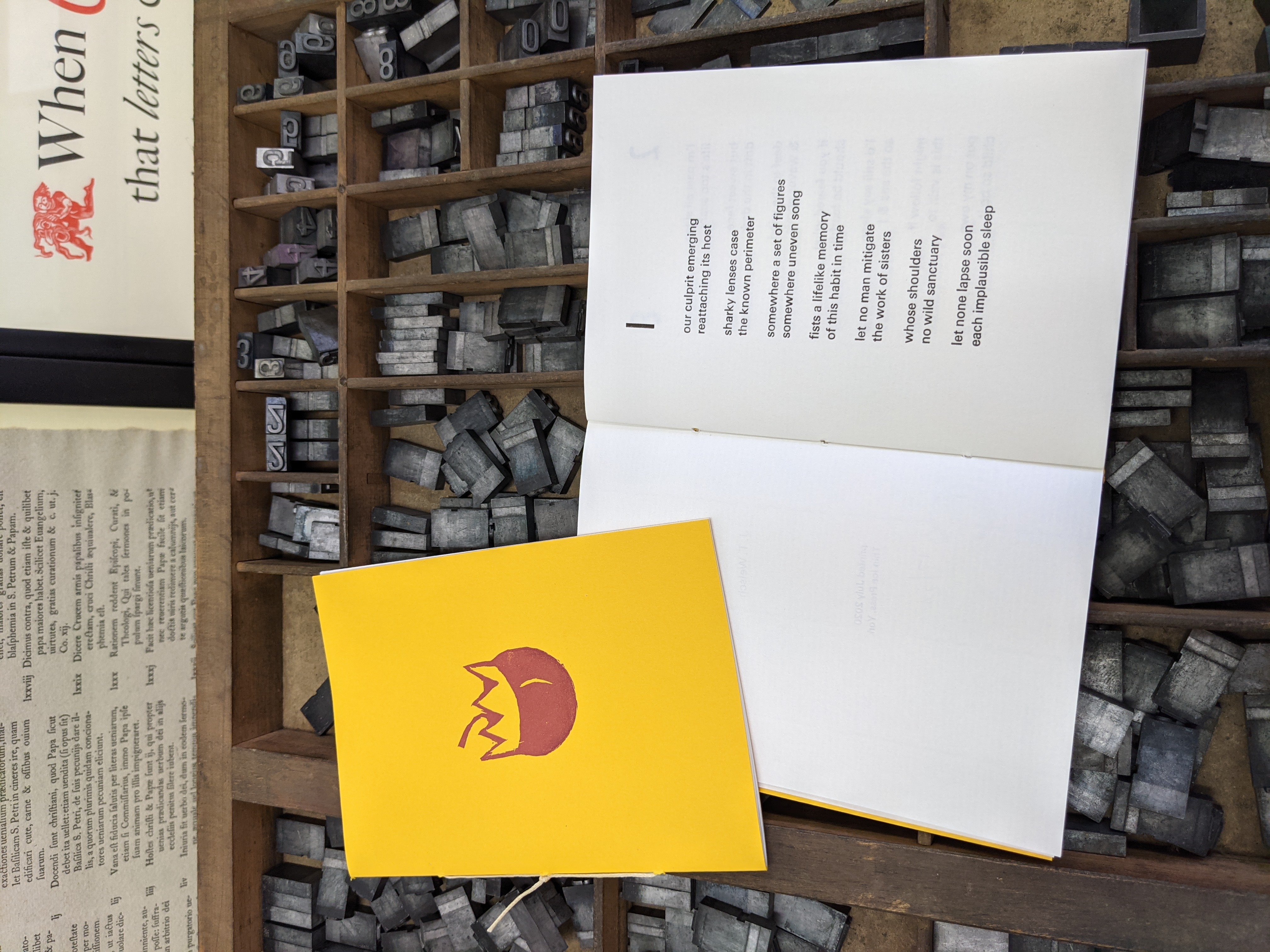 hands-on learning and practice-led research studio hosted by the Department of English and Related Literature. Our name celebrates the work of Thomas Gent, an eighteenth-century printer based in York. During the Great Frost of 1739, Gent printed novelty broadsides on the frozen River Ouse before relocating his festive venture to avoid the thin ice.Our presses chart the evolution of print from the 1700s to early 1900s, offering students and visitors the opportunity to experience the relationship between writing and printing through in-studio teaching, workshops, and research. From partnerships with other universities to presentations at bibliographic societies and a growing range of innovative publications, Thin Ice Press has worked to engage with a broader community interested in the craft of letterpress. You can read more about our Press and its history on our website.
Many of our printing endeavors were placed on hold through 2020 and 2021, so Thin Ice Press is looking forward to hosting more in-person workshops and collaborating on special events with other universities, writers, artists, musicians and printers. You can find details about our current projects and publications, including Helen Smith's Common Errors of the Press and JT Welsch's Flora & Fauna on our publications page.
YOUR SUPPORT
Maintaining a working press is, however, no easy task. We rely on funding to purchase essential materials like wood and lead type, new letterpress inks, and paper used for student workshops, publications, and public events. By becoming a Friend of Thin Ice Press, you will support immersive, expert teaching that expands student knowledge of print history and celebrates York's letterpress heritage. Donations play an essential role in helping us employ our part-time printer-in-residence, Nick Gill, who is an integral member of the Thin Ice Press team. Employing a printer-in-residence is crucial to our project, since hands-on learning and practice-led research enriches students' and staff members' experience and knowledge of print and book history. Funding from Friends will allow us to expand our residencies programme to offer opportunities to some of the UK's leading printers, as well as up-and-coming artists and printers.
FURTHER SUPPORT
Unable to join as a friend but still want to support letterpress printing at York? That's okay! For one-off donations of £10, we will send a small collection of ephemera printed by our team.
Want To Learn More?
Follow us for updates about Thin Ice Press and our events!
Instagram: @thinicepressTwitter: @thinicepres Website: thinicepress.orgEmail: thinicepress@york.ac.uk