Rules were made to be broken...
Three girls struggle to cover their tracks when their rule ridden landlord makes a surprise visit!
Why this Story?
Three To Hide is a fast-paced, odd ball comedy, depicting life  in your early 20s. We follow three students, Maddie, Theo and Vick, who must navigate their way through a web of lies, spun to cover their tracks against their austere landlord.
Relationships become tested when the girls disobey their landlord's contractually abiding rules, No boys, No pets and No drugs, on the day he makes a surprise visit and  their partners, pets and party supplies are in plain sight. What could go wrong?
Well, a lot but to do this we need your help. We are raising £2,500 to fund this original short and any donation you are able to give will go a long way in making our vision a reality. We thank you in advance. 
Who are we?
We are a group of eager film and television production students from University of York with a passion for entertainment and comedy. After a rocky first two years at university due to limitations with covid, we are keen to finally be able to work on a group project and pool all our skills and talents together to bring our odd-ball comedy to life.
Meet the team!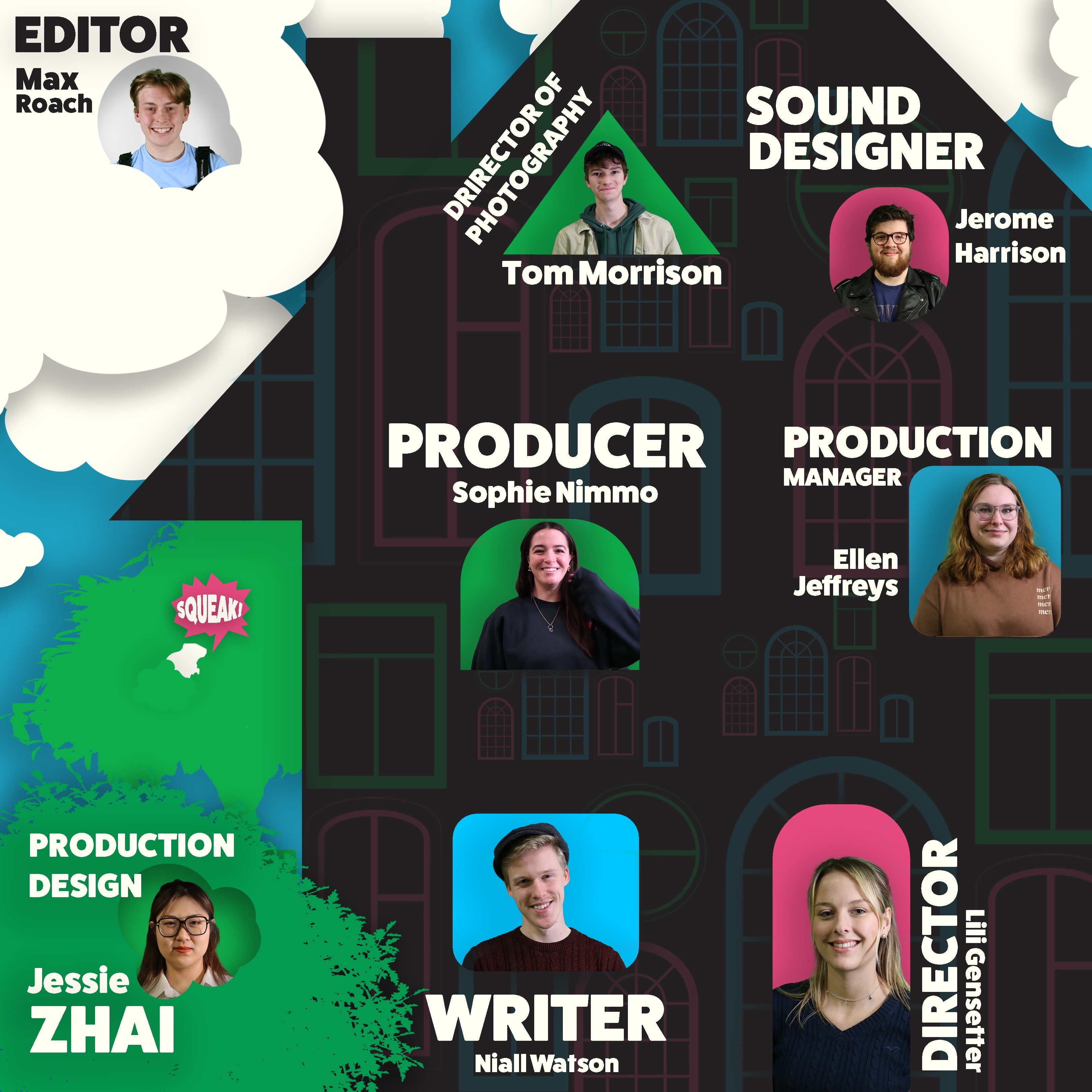 "Hello, I'm Lili the director of Three To Hide. I'm lucky to have incredibly talented people on the production team who are very passionate about this film. The comedy 'Three to Hide' brings us to close our third year of film studies with laughter and fun on set while the characters in this film also remind us of what it feels like to move away from home and slowly growing up at University."
Lili Genstter, Director 
To learn more about what each of us do make sure to check out our social media pages, which can be found at the bottom of the page!
Where will your money go?
We need to raise £2500 to be able to create our film. Please help us bring this hilariously chaotic story to life - any donation is appreciated and if you are unable to donate please share our page across socials! We will be sharing updates of our progress every week!
Here is a budget breakdown of where your money will be going: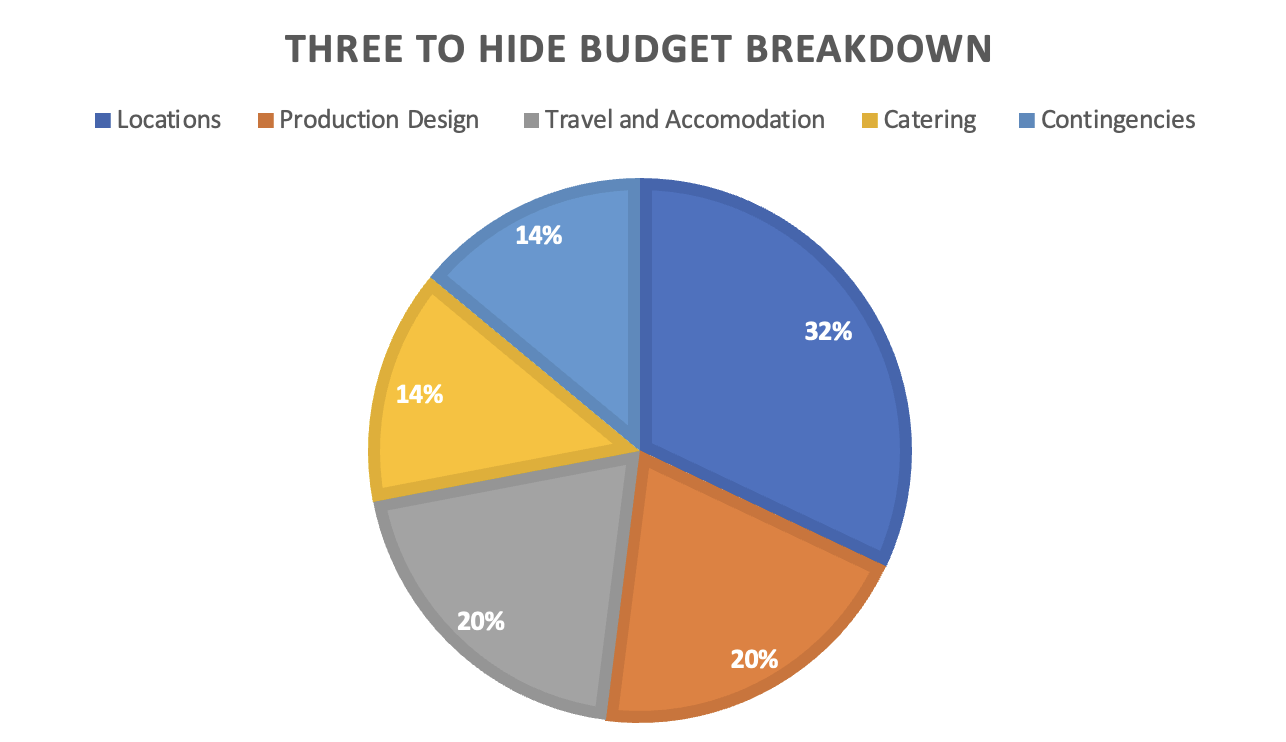 Locations - £800
We intend to shoot in one main location, an old-fashioned looking house. As a result, this location will have to facilitate the film and the cast and crew in a safe environment. Your money will be used in order to enable us to shoot in the perfect location, and make our vision come to to life. 
Production Design - £500
To set up this aesthetic tension between the old-fashioned house and the youthful energy that lodges inside, we have allocated a proportionate amount of our budget towards Production Design. Your money will be used to dress the house using elements of both old and new design - and buy a believable looking hamster toy! 
Travel and Accommodation - £500
To transport our cast crew and equipment to and from locations we will need a portion of the budget to hire cars and a van for kit. One of our main aims for the production is to be as carbon neutral as possible. As a result we are committed to sourcing environmentally friendly transport and finding local actors to limit long distance travel.
Catering - £350
With having a February shoot, we know how dire a cup of tea will be on long shooting days. This budget will be used for food and drinks to keep our cast and crew happy and warm!
Contingencies - £350
Anything can happen on set and we want to make sure we are as prepared as possible! This allocation of the budget is for any and all issues that may arise, as well as any excess will be put towards entering film festivals and distribution!
Rewards
To show our appreciation we have a range of rewards whatever the amount you might have! Check them out for exclusive behind the scenes footage and prizes!
Where to find us?
Instagram: @ThreeToHide_Film
Facebook Page: Three To Hide 
Twitter: @FilmThree2hide
TikTok: three2hide_film
Any queries please contact: Three2Hide@gmail.com
Please share our project!
We are aware that in these testing times not everyone is able to donate, but that doesn't mean you can't still help! Please share this project with anyone and everyone you think would support us - on Instagram, Facebook, TikTok... the lot! Basically, the more people who hear about us, the more likely we are to succeed! And if you are able to donate money, we'd appreciate that even more!
Please donate today and help make our vision come to life!
Thank you!