A joyful card game designed to help you learn about biology
What is Catastrophic?
Catastrophic is a table top card game designed to help people learn about how the small things in life can have large scale effects on processes around the world. Catastrophic uses plant and animal traits to build species, which live and interact with each other in communities. Your job as a player is to cultivate and support a robust community of plants and animals, weaken those of your opponents, and adapt to survive the Catastrophic events the planet and your opponents continually throw at you.
We want to share Catastrophic with more people! This project will crowd fund a print run of Catastrophic 2.0, with postage and packing. All of the donations over and above our printing and shipping costs will go towards student time to develop the game further, and production of new prototype cards. We've got our eye on some exciting expansion packs and learning materials to make the gameplay even more fun and educational for a wider variety of players of all ages.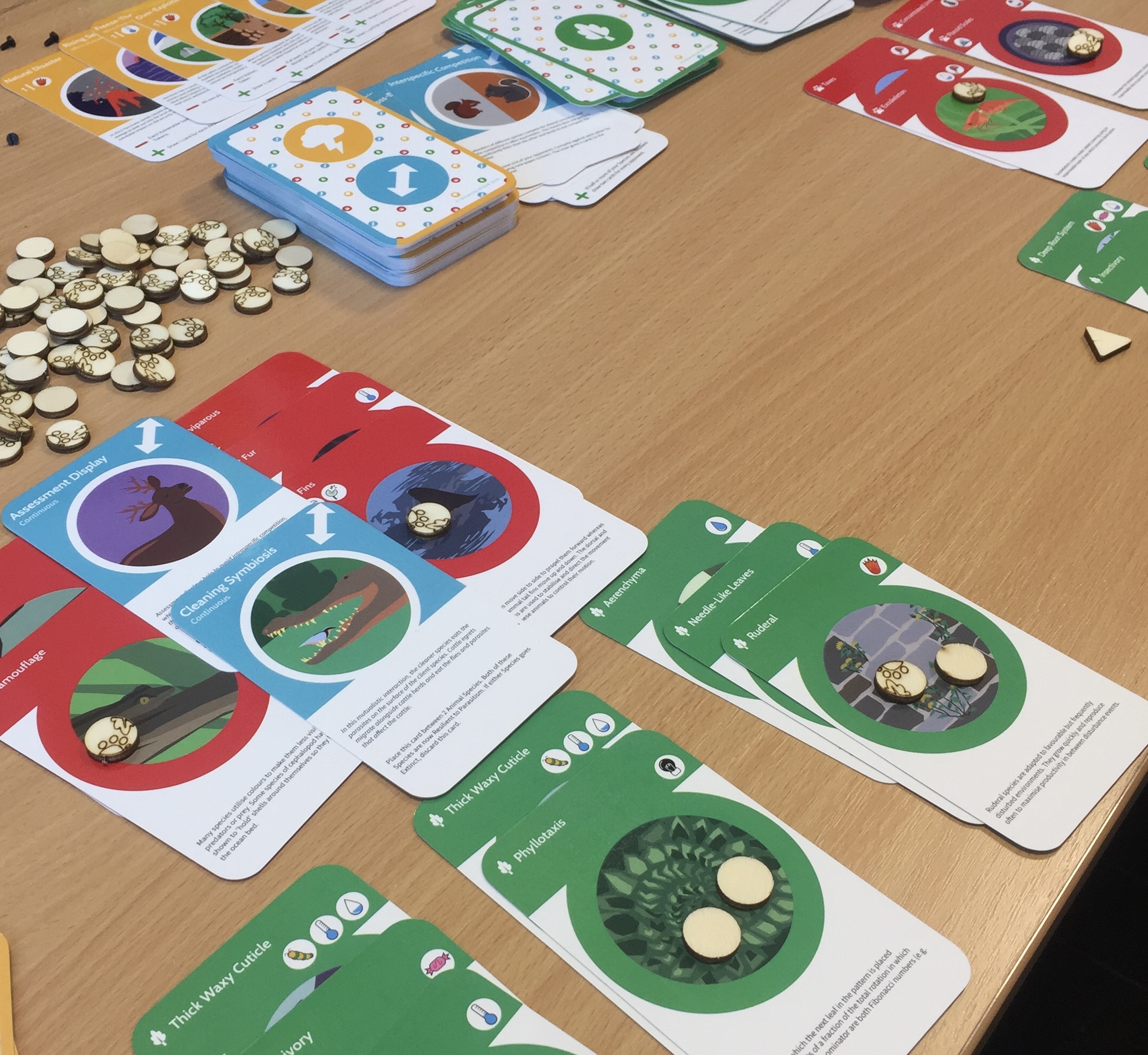 Who are the Catastrophic Crew 2022?
We are Sara and Eli, two first year Biology students at the University of York. We were introduced to the Catastrophic game as part of our course, and fell in love with it. We want to share it with as many people as we can! We're working with Dr Pen Holland to make this possible, and if you help us to fund this dream, we'll be reaching out to more biology, game design and graphics students to join the team this summer.
Our Catastrophic story
Catastrophic was brought to life in a student-staff partnership that started at the University of York in 2018, and it's been bringing joy to biology students and scientists at York and around the world ever since. Catastrophic 1.0 was evaluated on the 2018/19 cohort of Biology students at York, and then the rules were revised and the game was given an update with bespoke artwork, population tokens and an illustrated instruction book and box sleeve.
Catastrophic 2.0 is shiny, beautiful, and fun to play, and our students love it:
"It makes me excited to learn more."
"Has made me think about how certain traits of plants and animals can help them survive events."
"Just wanted to say, this is the best game ever. 10/10 would play again."
It's also scientist approved!
"The cards look really smart, plus the scientific underpinnings of the game are sound and work really well in creating a game which feels authentic. And we learned stuff too!" Prof Tim Thompson, Teesside University (and see the blog post about Catastrophic too)
"A super fun and educational game. Catastrophic is a great way to have fun while learning about so many neat plant and animal traits to handle harsh environmental conditions. I highly recommend this!" Dr Miranda Redmond, Colorado State University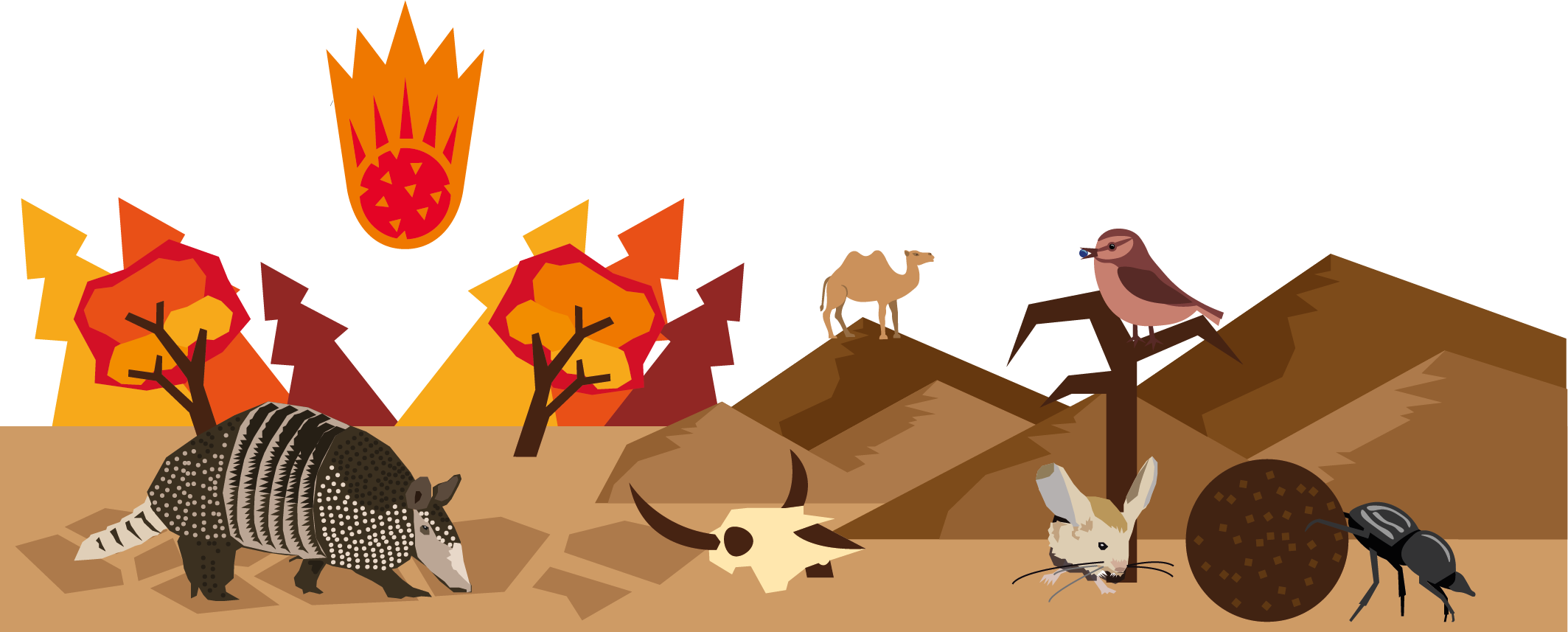 Playing games is a really effective learning method for all sorts of learners, and an especially brilliant tool for those who have a difficult time learning from a textbook. It doesn't seem fair that students in the Department of Biology at York are the only ones with their hands on Catastrophic - we want to make this game accessible to as many people as we can reach, so that everyone can learn about biology in a fun and engaging way.
If you donate to this project, you can opt to get a copy of Catastrophic for yourself or as a gift for your friends and family. You can donate the game to a school and help fund learning materials so that teachers can use it in the classroom. You'll also be funding the next phase of development of the game by the Catastrophic Crew, so that we can make it even more accessible to students of all ages.
Where will the money go?
If we hit our minimum target, we'll be able to print copies of Catastrophic for everyone who has donated at that level, and support student time to package all those boxes for our donors. These will ship in September/October 2022, so they're ideal if you are looking for a slightly different Christmas gift for your friends and family.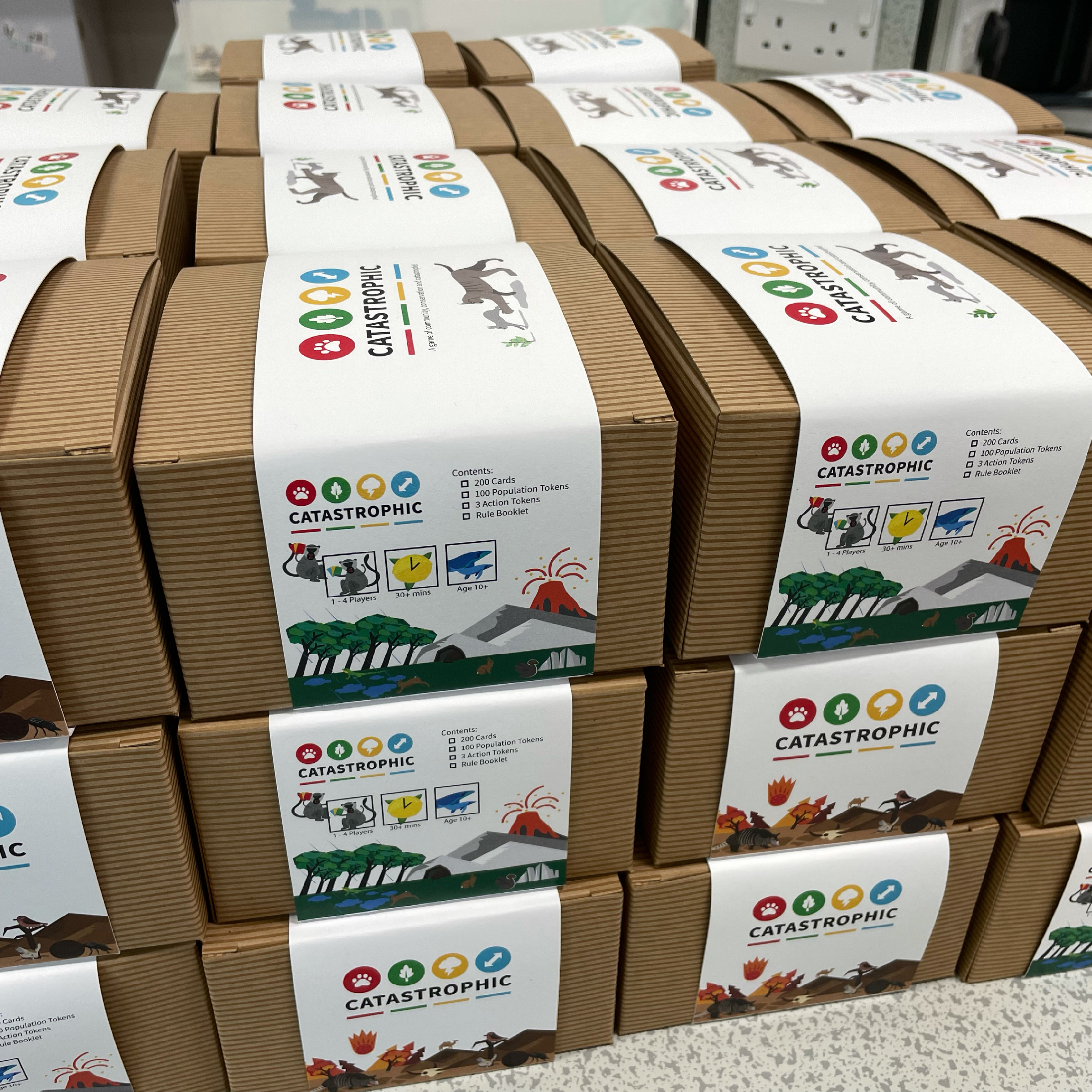 If we reach our funding target, we'll be able to support student time to:
Update the rule book to make it easier to get going for a wider audience.
Create learning materials to accompany the game when it is used in schools and for public engagement.
Highlight career paths in the biosciences with a character expansion pack, supporting young people considering their next steps in education. 
Put the spotlight on ecosystems with a habitat expansion pack, so that you have to build a community adapted to specific conditions or face the consequences.
Develop a fantasy traits expansion pack that will let you play Catastrophic with dragons, orcs, elves and more!
If we exceed our funding target, we will be able to:
Explore options for new game boxes and tokens, making the game more commercially attractive for the future.
Make the fantasy traits expansion pack even bigger!
Print shiny prototypes for the new expansion packs and evaluate them over the next year so that we'll be ready to make them for the next crowdfunded print run.
We'll keep you updated every week or two over the summer on this page, so that you can be the first to get the details on how the project is developing. There will also be frequent photos on our social media accounts - @Catastrophic_CG on Twitter and @catastrophicgame on Instagram.
Rewards
We've set the minimum donation that can receive a physical copy of Catastrophic at £30, which is pretty good value - you'll be getting 200 shiny cards, more than 100 game tokens, colourful instructions, a box and illustrated sleeve, and postage to a UK address. After the cost of having the game printed, produced, packaged and shipped, each game you sign up for will fund about 45 minutes of student time. The more support we get, the more time we can spend on making Catastrophic even better for the future. If you'd like to donate above a reward price point, we'll put all of the difference towards game development and printing of prototypes for testing.
You can donate from overseas (and we'd love it if you do) but obviously the postage costs us a bit more. You'll see an option to add to your donation so that it covers our extra shipping costs, and we'd really appreciate it if you can do that. Alternately, if you have UK-based friends or family that we can ship the game to, that will help your donation go further - we'll check in with our overseas donors before shipping, to confirm addresses. If you're York based, you can arrange to collect your game when it's ready, and we'll put the bonus postage money towards development time.
Of course, there are also plenty of other rewards that you can choose instead. If you just want to throw us a pound, or pledge for a Catastrophic postcard, you can start there. If you want to go big, you could get a limited edition copy of Catastrophic version 1.0, meet the Catastrophic Crew, and even have a chance to name a character in one of the expansion packs. Check out the rewards, and thank you to everyone who donates, whatever the amount.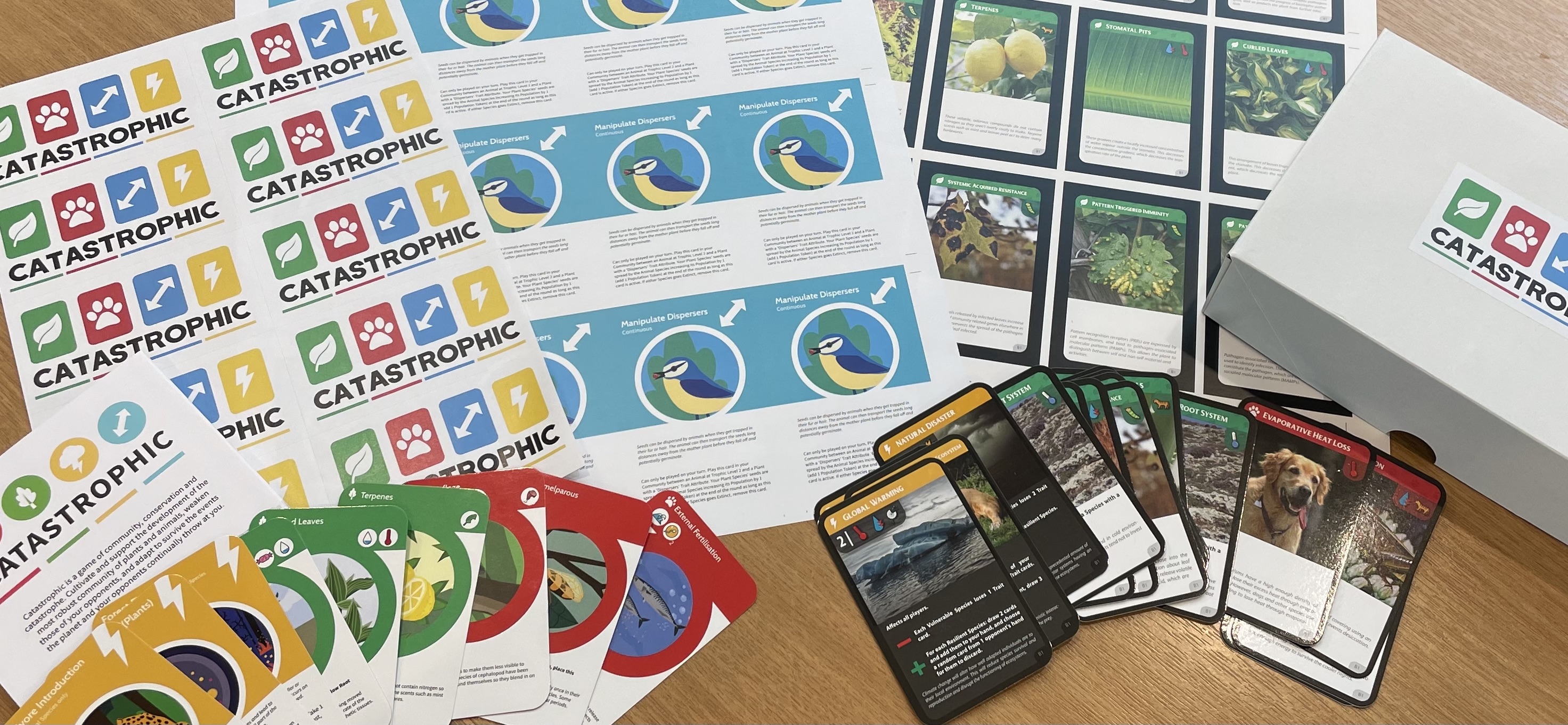 Find us here
You can find lots of details about Catastrophic at catastrophic.york.ac.uk, including the Catastrophic story, free downloads, online (solo and multiplayer) versions of the game and all our contact details. Follow us on @Catastrophic_CG on Twitter and @catastrophicgame on Instagram to find out how we're doing!
Help us succeed!
You don't need to give us money to help us succeed! Please share this project with anyone you think would support us - on Twitter, Instagram, Facebook, LinkedIn, by email, telephone or text, in a chat over the fence, on your blog, or just run down the street shouting about it (well, maybe not that one). The more people that know about it, the more likely it is that we'll make our targets and maybe even go Catastrophically huge. We'd like to be the biggest crowd funding project the University of York has ever seen - help us by sharing it with everyone you know!
And we know we said you don't need to give money to help us, but if you do, we'll love you even more than Biology students at York love Catastrophic. Please sponsor us, and help bring the joy of Catastrophic to Yorkshire, the UK, and the world.