CHMS presents 'The 25th Annual Putnam County Spelling Bee' from 7th-9th December 2023 @ Friargate
The show
Hello! We are incredibly excited to be putting on a production of the hilarious and joyous musical 'The 25th Annual Putnam County Spelling Bee' and would love to raise about £1500 in order to fully realise our creative vision for our show. This intimate musical, which is loved by everyone who knows it, sees 6 'middle-school' aged spellers navigate the joys and pressures of a spelling bee. This hilarious and dynamic musical with its incredible ensemble cast is truly not to be missed! Anything you are able to donate today will make a massive difference to making our creative vision a reality. Thank you.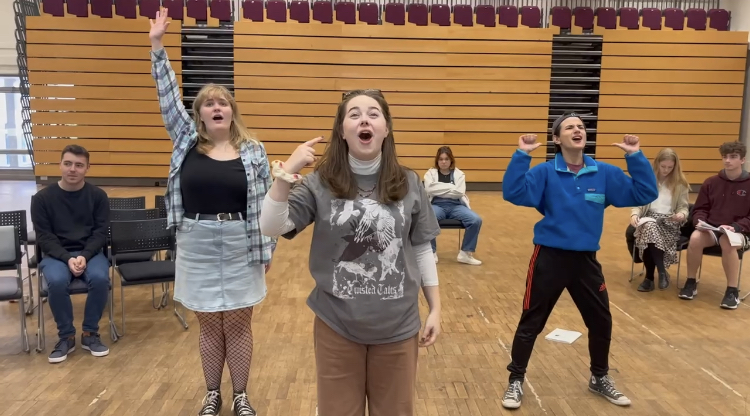 Who are we?
CHMS (Central Hall Musical Society) is the leading musical society at the University of York. Our society provides students with the opportunity to perform in various styles of shows, from full-scale musicals to variety showcases.
'Spelling Bee' is the society's chosen winter musical and consists of an incredible 11 person cast and supporting production team. Our executive team, consisting of Emilia Stevens as Director, Archie Brett as Musical Director and Will Sedgley as Producer, are incredibly proud of our spellers and we would love for everyone to support us, creating the best show possible.
Where will the money go?
The majority of the money raised by wonderful donors through this page will support our creative visions of our production, such as costume, set, technical aspects and advertising costs. We want to transform the Friargate Theatre into a middle school gymnasium in order to immerse our audience to make them feel, like our characters, that they are in the midst of a spelling bee! We are working alongside Technical Theatre Society to create engaging and exciting scenes with the addition of sound effects, lighting and some surprises!. 
We also will use some of the funds in order to market our show to a wider audience, such as advertising boards, pamphlets, radio appearances and video creation so that we can have as many people support our wonderful cast in performances.
Rewards
We have some rewards for those who wish to contribute to our production which you can see above. However, we are extremely grateful for any donation, big or small. 
Follow our journey!
Find us @chms_spellingbee on instagram 
Find us at chmsspellingbeetiktok on TikTok
Help us succeed + THank you
We really appreciate any donation you are able to make to help us make this show a success. However, if you are not in a position to donate, you can still help us make this show a success. Please share this project with everyone you know - the more people who support us the better the show will become! Oh, and don't forget to book tickets once these become available very soon. A link to tickets will be available on the 'updates' tab once they become available!
We thank you so much for any help you are able to give us, and we will see you at the bee!