A pack of cards to help facilitate inclusive composition activities with groups of all abilities.
about the project  
This crowdfunding page is to help raise funds to get sets of Composition Cards professionally printed so they can be used by real-life community musicians. 
The Composition Cards are a set of 44 playing cards which are designed to make composing easy for ANY group. They are designed to be accessible and inclusive and can be adapted for any group regardless of age, ability, disability, musical standard, or musical experience. The cards can be used in thousands of ways, but the cards include 10 adaptable group activities that have suggested level, group size, and aims. 
They are designed to make composing easy, fun, and accessible for any person wanting to compose with a group! 
If the project succeeds and the cards are printed, they will be able to be distributed to real-life musicians, leaders, teachers, and organisations and used to create music. Their inclusivity and multisensory aspects mean they are accessible and useful for every type of group. 
Who am I?
I am an MA Community Music student at the University of York. I live in Leeds and have a passion for composing and accessibility - so I thought it was time to combine them! This project is my final Masters' project (independent study module). 
what are they? 
These cards are for community musicians, teachers, group leaders, or just people wanting to compose, but who don't know where to start. Starting a composition can be a daunting task, with seemingly endless possibilities and directions in which to go. Therefore, teaching or aiding composition can be an equally daunting proposition.
Composition Cards are physical cards designed to help a leader, individual, or group start (and finish) a composition task or learn about musical elements such as melody, rhythm and structure. They help by suggesting or selecting certain elements of the composition, reducing the number of choices the group or leader has to make. This makes composition easier and more fun! 
These professionaly-produced cards will be able to help community musicians do more composition, which is an incredibly valuable creative output for people of all ages. 
what do they look like?
Here are the designs! They are double-sided, playing card sized cards. The accessible version of the cards has 3D raised graphics of the same shapes you can see as well as a braille letter in the corner of each card. This makes them accessible to people who are visually impaired. 
The cards come with 10 example activities for various groups, with suggested group size, ages, abilities etc. Although the possibilities are endless, these 10 games give you a head start.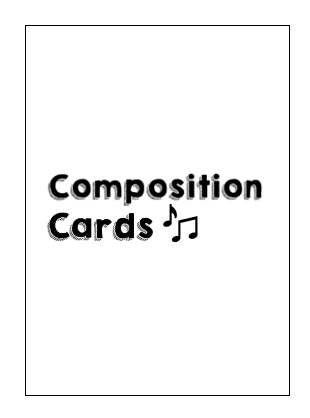 Where will the money go?
The money raised will go towards the direct production costs of producing and printing the cards. If I can raise the first £250 I will be able to digitalise the cards for printing. 
Graphics digitalised with a designer = £250.
Printing per pack (with box) initially = £40 (2D). To print 5 packs = £200  
To make the cards fully accessible, the accessible version needs to have a 3D element - think raised graphics/braille. This makes printing more expensive but is an essential element to the cards. 3D printing costs = £200.
Booklet printing = £100 
Copyrighting the cards and graphics = £40 per year.
If I raise more than my target, I will use the money to print more packs of cards and set up a way to purchase the cards for a subsidised fee, so the money can help make them financially accessible to community musicians. Repeat printing costs will be reduced, so the more I can print, the less it will cost. 
Be kept in the loop
I'll give you monthly updates on how the project is going. 
You'll be helping community musicians and teachers become confident with composition at an extremely difficult time for community music. 
Help us succeed!
You don't need to give money to help us succeed! Please share this project with anyone you think would support us – on Twitter, Facebook, LinkedIn, by email, telephone, in a chat over the fence or on your blog.
We would appreciate your support in any way! Hopefully, these cards can spread a little composing joy in these difficult times. 
Composition Cards by Rebekah Weatherby Copyright 2020.