The debut performance of a brand new theatre company - making the fantastical tangible.
ABOUT THE project
This is the way the world ends. Not with a bang, but with a highly specific and unlikely series of events involving a particle accelerator, a ball of yarn and a moth. Spanning the years before, during and after an apocalypse, "Moth" is a science fiction play about space, time, memory and music. 
We are aiming to launch our company with a limited run of "Moth" in Yorkshire, in what we are hoping will be a brilliant first step into the industry, using the skills we've gained at York.
Who we are
Antimatter Productions is a brand new theatre company made up of final year students at the University of York. Having met in the performance societies at York, each of us found passion and gained skill in theatre making from many, many (many!) projects over the years. Despite coming from very different degree backgrounds, we each thrived in York's uniquely dynamic theatre scene, and aim to combine our individual knowledge and skill-sets to create innovative work. We are thrilled to have the opportunity to put on our debut show "Moth" before we leave, allowing us to really showcase the talent here at York, and take a first step into the industry.
our story
Our passion is creating genre-bending speculative fiction in theatre and beyond. We want to make work that makes an audience gasp, cry, laugh and feel completely transported while in our company. We aim to take the unique and the weird of sci-fi, fantasy and horror and make it unique-r and weirder, finding the human connection in each story.
Where will the money go?
Our main expense is venue hire, and the rest will go towards production costs. We are looking to hire a small theatre space for our debut show, and to transform the space using innovative sets and costumes to really build that atmosphere that transports an audience into a new world. As a brand new company, the money we raise from this campaign will also be essential for allowing us to market ourselves and get our name out there into the world.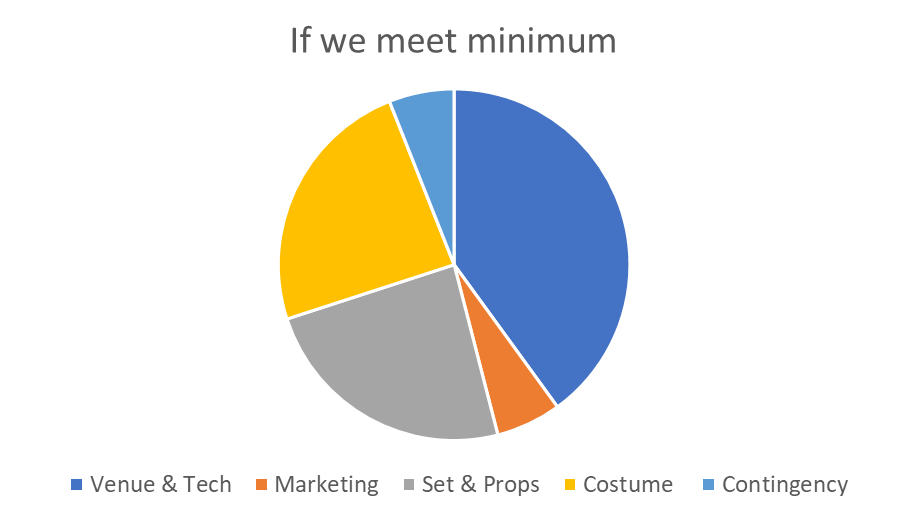 If we raise our minimum goal, our budget breakdown is: £100 Venue and Tech Expenses, £15 Marketing, £75 Set and Props, and £60 Costume.
If we raise our maximum goal, our budget breakdown is: £250 Venue, £100 Costume, £120 Set & Props, £50 Travel Expenses, £60 Marketing, and £20 Contingency.
Find us here
Instagram: @antimatterprod
Twitter: @antimatter_prod
Facebook: Antimatter Productions
Email: antimattertheatre@gmail.com
Help us succeed!
We understand that not everyone can donate, especially right now. Please consider helping us out by spreading the word, or sharing our campaign on social media. It would mean the world to us - we can't wait to see you at the show :)
Claire, Ezri, and Joseph - Antimatter Productions