A dynamic physical, multimedia exploration of relationships, humanity and what it means to be unique
Who are we?
We are Mind Over Matter Theatre Collective.
We are comprised of current second and third year students, and graduates from the Department of Theatre, Film & Television at the University of York. Winners of the 2015 York Performance Award, we're an eclectic bunch with varied skills in theatre, performance, choreography, film, design and music composition. 
Our aim is to give heart to matters of the mind through honest physical productions that combine art, science and philosophy in their simplest forms. We want to get people talking about the questions that often seem bigger than us all.
The Show
Jason Ryall, Mind Over Matter associate director, found On Ego a number of years ago and unable to stop thinking about it, proposed it to his friends in late 2014. It was produced in February 2015 as part of Platform Theatre Society at the University of York. This heartfelt and unusual production, embedding neuroscience and philosophy within its narrative, received an incredible response from theatre goers and non-theatre goers alike;
"A powerful theatrical debate on how the brain creates a sense of self and identity and whether it is possible to reconstruct it […]

 

It's thought provoking, engaging, and incredibly relevant."

 - A Younger Theatre
"This is something that 

will stick in the mind days after encountering it"

- York Vision
"A simplistic play constructed as an alloy of Theatre, Music, Dance and Film did not sound like my cup of tea...spoiler alert: they proved me wrong."

- The Hippo Collective
 
 
"I have left having learnt something, having felt something, and wanting to do something." James Ralph, The View from Wherever
Why donate to this project?
Unfortunately, as a company founded by recent graduates, we don't have access to much needed funding. Putting together a professional production of this scale requires a great deal of resources. We want as many people as possible to see this production, and hopefully be as inspired by it as we are!
'It's almost a show for people who don't like theatre. It gets people excited about theatre again! And that is why I think donating to this project is brilliant because it's not just about one show; it's about a collective who are interested in creating theatre for everyone, and getting everyone creating theatre!' –
Scott Hurley, 3rd year BA Writing, Directing & Performance student 
This project is also providing a boost for us York students who are about to embark on a difficult year breaking into the industry. Working with Mind Over Matter is giving us a rare opportunity and professional insight into what its like to try to make your own work and establish yourself after graduating.
With this in mind, the Edinburgh Fringe Festival is the perfect place for us to showcase our work, meet other professionals and hopefully open the door to future adventures.
However, this adventure has a cost that's why we need your help. 
Where will the money go? 
The full budget for the production is £5,350
Here is the breakdown:
Venue £3000
Fringe Registration Fee  £295.20
Set £300
Lighting Hire £350
Rights to On Ego £650
Flyers and Posters £300
Screen & projector hire £450
TOTAL : £5,345.20
If we hit our minimum, we can cover the venue hire with the help of our £1000 York Performance Award Grant. If we manage to raise our aim of £3000 we will be well on our way to covering all of the extra costs to will make this production as exceptional as it can be!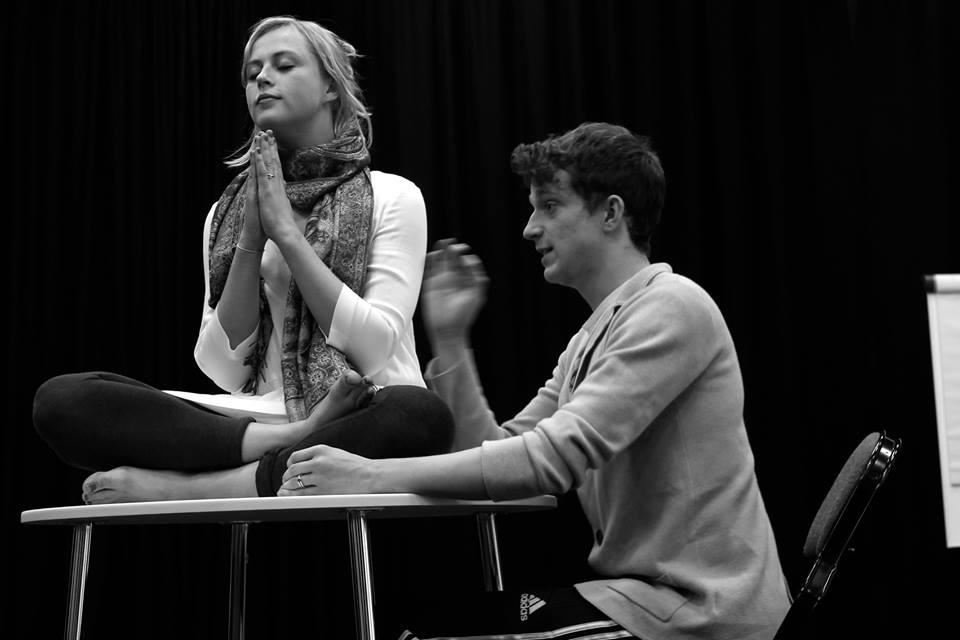 Rewards 
We can't wait to share our work with you. If you donate, we aim to be in touch every step of the way in the form of our rewards. These are featured on the right hand side of the page.
NB. As we are unable to pay travel and accommodation expenses as part of our rewards, we understand that not everyone will be able to make it up to see the show in Edinburgh. If you unfortunately cannot attend, we'd love to arrange tickets for you to see the show in York later in the year. If this is also not possible, we'd be thrilled to arrange for you to attend one of our rehearsals more locally if we can!
Help us succeed! 
Anything you are able to donate will help, and will be rewarded with our eternal gratitude! Even if you cannot donate, please help us get the word out by sharing this project on Facebook, Twitter, on your blog, or with anyone you think would support us.
And we know we said you don't need to give money to help us, but we'd love it if you did! Please sponsor us and help make this happen. Now let's accomplish our goal and create something special.
www.facebook.com/mindovermattertheatre
Twitter: @M_MatterTheatre
Instagram: @mindovermatter_theatre for sneak peeks on our journey to the Fringe! 
CLICK HERE TO READ AN INTERVIEW WITH DIRECTOR LAUREN MOAKES 
Thank you from all of us at Mind Over Matter!


Video by Tom Leatherbarrow, BA(Hons) Film & Television Production Graduate 2015
Photograph Credit: Rosie Copland-Mann
Have you sponsored this project? If so, log in to comment on updates!
1 year ago
Dear Supporters and Sponsors,
We are just 4 days away from reaching our target! We are absolutely overwhelmed by the support we have recieved from you all. Please help us out in this final push if you can by sharing this link https://spsr.me/eysF and reaching our to your networks online, on social media or by word-of-mouth.
Thanks & love,
Mind Over Matter x

1 year ago
Thank you friends for each of your overwhelmingly kind donations. We have smashed our minimum and are thrilled to have your individual support on this project.
Filming today for On Ego at Orillo Studios with Visual Co-ordinator Tom Leatherbarrow.
Feat. Harry Whittaker as Derek.
1 year, 1 month ago
THANK YOU to our most recent donors! We are so close to our minimum, and with two weeks left, we are confident we will reach it. 
We spent last week rehearsing and choreographing in York.
For sneak peeks visit our blog, the videos will play if you hover over them: http://mindovermattertheatre.tumblr.com 
Alternatively, visit our Instagram here: https://www.instagram.com/mindovermatter_theatre/ 
1 year, 1 month ago
Dear Supporters,
Thank you so much for your kind donation! We are totally humbled by your support.
We recently gathered in Kent for a 'rehearsal retreat' where our designer, Anna, was able to join us and confirm how On Ego is going to look. 
This week we're in York for four days with our actors, who will be recording rehearsal VLOGs to let you know what they've been up to. You'll be able to have a peek of these at:
www.facebook.com/mindovermattertheatre and
http://mindovermattertheatre.tumblr.com 
20 days left to reach our minimum, we're only £495 away!
With love & thanks,
 Mind Over Matter x
9 anonymous donations totalling £157.00