Improve and promote female access to rugby.
The BIG Project
The University of York Women's Rugby Club (UYWRUFC) aims to support and develop our newly established Seconds Team squad so that they have the opportunity to compete in the BUCS league, receive high quality coaching, and advance their skills. But we need your help to achieve this.
Who are we?
Here at UYWRUFC, we provide a friendly and encouraging space for women to compete in university level sport, learn rugby techniques from beginner to advanced levels, and develop their personal skills such as leadership, communication and teamwork.
We are an inclusive and diverse club, welcoming women of all abilities, including those who have never picked up a rugby ball before.  We are proud to have been recognised for various awards including York Sport Union Team of the Year in 2014 and finalist for Roses Team of the Year in 2016. As a club and committee, we always  ensure that our outstanding reputation is maintained and furthered through hard work and determination.
Our Story
Women's Rugby is becoming increasingly popular and our club reflects that trend with membership continuously growing.

To accommodate our growing membership, we created a development squad for the 2015/16 season. The success of this has allowed us to enter a Seconds' Team into the BUCS League. This season, for the first time in UYWRUFC history , we have two teams playing in BUCS leagues and there are over 60 active members in the club playing week in week out.

With such a high active membership, and knowing that the club will only get larger, we would like to be able to support our coach and our players by providing them with the highest training possible and providing the new team with travel to their games. This would benefit all of our members by improving their experience of sport at the University of York and would translate to success on the pitch.

We are a hardworking, dedicated and motivated club, and we take every opportunity that comes our way to ensure we not only benefit ourselves, but the University and York community as well. If you donate to our project, more women will be able to take part in and continue to play rugby, a sport in which they fall in love with, at the University of York. Please donate today.

How can you help?
£1400 will cover transport to all four 2's XV away games this season (@ £350 for transport to and from a single away match)

£750 will provide the team with our target of 25 weeks of training sessions with a Qualified Coach (@ £30 per week)

£300 will be enough to create a professional promotional video to increase the team's' presence on campus and attract new players, allowing the team's membership numbers to be supported for years to come.

£50 will cover the costs of sending 10 players on RFU specialised training courses such as 'Rugby Ready', 'CDP Scrum Factory', and 'Coaching Maul and Ruck' (@ £5 per session)

And if we raise all of that we will hit our total target of £2500!

If we hit our minimum target, we will be able to provide transport for half of the seconds' team BUCs away fixtures alongside 10 weeks of coaching.

If we hit our full target, we will be able to provide coaching and external training for the seconds' team players, transport to all their away fixtures, and create a promotional video to increase their presence on campus.

If we exceed our target, we will be able to provide additional coaching for the seconds' team and send more players to specialised training sessions which will help the new players improve and grow in confidence.
Support Our Project!
Please donate today by clicking on the right of the page and select your exclusive reward!
If you're not able to help us financially we'd love if you can become a helper on YuStart and share our project with anyone you think would support us. You can share our project by:
•   Liking us on Facebook https://www.facebook.com/uywrufc/
•   Helping us trend on twitter @UYWRUFC
•   Following us on Instagram http://i.instagram.com/uywrufc
•   Sending out emails to your contacts
•   Mentioning us in a conversation to a friend
•   Tag us in a blog or post online
We would be so grateful if could share our project with everyone you know- the more people who know about the project, the more likely we are to succeed so your help is much appreciated!
We are also very active on social media so make sure to follow us to keep up-to-date on what we're up to!
If you have any questions, please email womensrugby@yusu.org

Website: http://www.uywrufc.com

Thank you!
Have you sponsored this project? If so, log in to comment on updates!
6 months, 4 weeks ago
#WEEK3
Merry Christmas to all our lovely friends and supporters! We hope you are enjoying the festive season. Thank you to everyone this week who has so generously donated to help us pass the half-way mark!! We're now storming into the second half of our funding so please continue to share our project and spread the rugby love.
Thank you from everyone at UYWRUFC.
7 months, 1 week ago
#WEEK2
...AND ANOTHER AMAZING WEEK! Thank you once again for all your truly amazing support. This week you have raised a fabulous £186 and with Christmas fast approaching we are so grateful for everyone's generosity. Everyone at UYWRUFC has been working hard on their holiday fitness ready to storm the league next term and we can't wait to be able to support our seconds team with this funding. We have now raised 49% of our overall goal so please share the link or donate yourself and help us to reach that half-way mark!
Thank you from everyone at UYWRUCFC
7 months, 1 week ago
WOW you have helped us to reach our minimum target after only 1 week of fundraising— Women's Rugby fans are amazing! Thank you to everyone who has shared and donated towards our project, from £1 to £100 we couldn't have reached that minimum amount without you. Now with our project definitely going ahead, we can't wait to begin making plans for our seconds' team and sharing them with you. Our next milestone is the full target of £2,500 and we couldn't think of better people to help spread the message than you! In fact, we've had such a successful start to the campaign that we hope that we will exceed our target and help even more young women get into rugby. If you would like to continue supporting this project, please hit the share button and tell people what a fantastic cause this is. And if you would like to actively push our fundraising total even further, please consider making another donation. 
Thanks to you, more young women are going to get the opportunity to experience an amazing sport and be part of our rugby family. 
Thank you from 
UYWRUFC
P.S. Check out what we were up to last week in our final game of the term against Leeds XV 1s.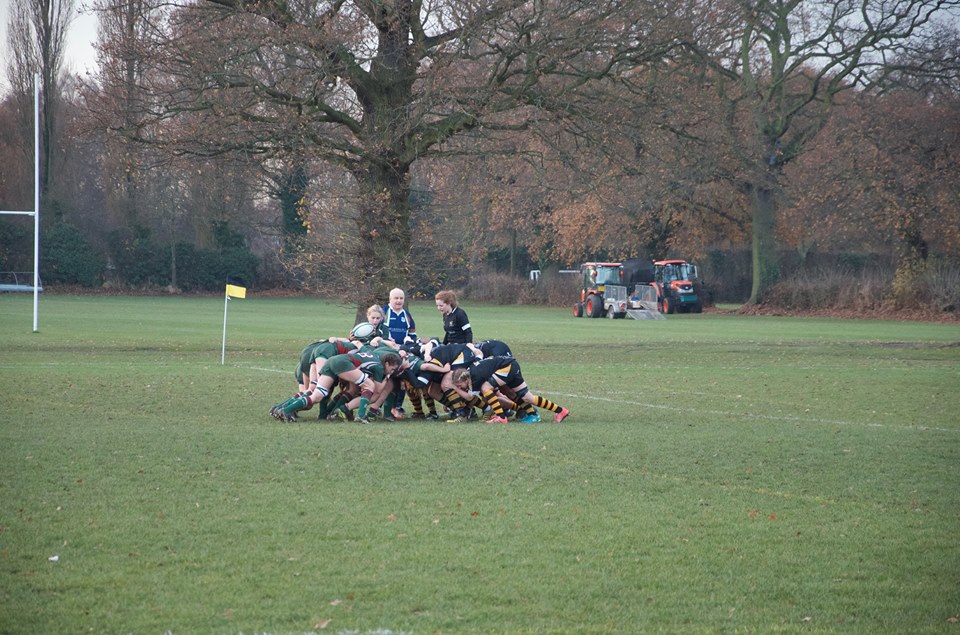 13 anonymous donations totalling £313.00