The game show that challenges you to master the puzzles and solve the murder mystery!
A Whodunnit Murder Mystery Gameshow
We need your help raising £1900 to create a brand new gameshow which challenges contestants to a series of puzzles and games to find clues and solve a murder! Three contestants will find themselves transported through time to assist our host in solving an unusual and complex mystery. They will meet suspects, complete challenges, find clues and have to deduce who is the killer. Who Done It? is designed to engage the audience so you can follow along with their progress, track the clues and make your own decision on who's guilty!
Who are We?
We are a team of seven third-year undergraduate students from the University of York who have developed this new twist on the game show genre. We are excited to begin working creatively to build the set pieces for Who Done It? and are committed to creating an intriguing set of murder mysteries.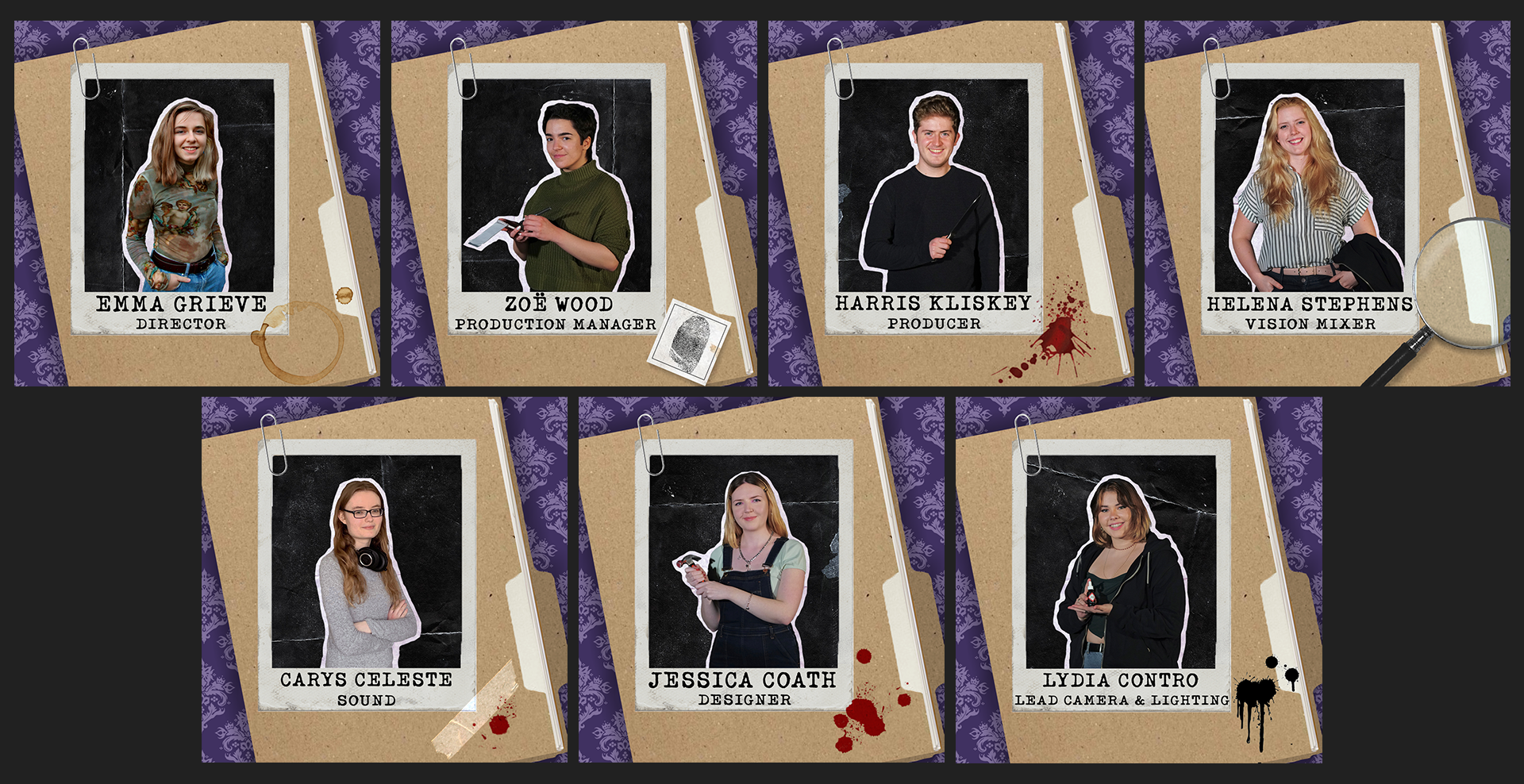 our story
You can help us finish off our degree with a bang and create a show that demonstrates the skills we have learnt across our course. The project is a huge final production for us to have a stab at and we hope you will help us take on the challenge!
You can help us showcase our skills and create an industry standard, high energy, electric game show. Who Done It? is our opportunity to illustrate we are ready to enter a cutthroat industry.
Your help is needed to raise the money to create this amazing show! Donations are crucial to make sure we can build the elaborate sets involved in a murder mystery. We don't want to poison anyone with some bad paint! You will help us create a professional and well designed environment that looks good to the contestant and the viewer.
Your donations are incredibly important to us and we appreciate anything you can give. We are excited to share our project with you and know that together we'll absolutely kill it!
Where will the money go?
Most of the money you donate to us will go towards building and furnishing our elaborate sets. Your support will help build a Doctor's Office, a 1920s Speakeasy and a Western Saloon for the murder investigations to take place in.
A key component of the show are the big, set piece puzzles which will also need to be built or sourced. We are preparing to build everything from a giant cipher wheel to a slingshot range and an X-Ray themed puzzle.
All of your money will be greatly appreciated! We need to raise at least £1900 to make this show a reality but with your support, up to £2500 can be raised to fully bring these sets to life! Your donations fund the construction of the project's sets, hire the big furniture pieces and build the games. Additional money will go towards costuming the murder suspects, covering travel costs and providing snacks to get our cast and crew through the day! Any money left over after production will go towards entering the show into festivals.
A breakdown of costs include:
Set Construction - £700
Props and Scenery - £500
Costume and Makeup - £400
Travel - £100
Catering - £100
Contingency - £100
Please note the above figures are calculated estimates.
Rewards
You can get your hands on some exciting rewards if you choose to donate some money to fund our show! Don't worry if you can't give much, we have some great rewards at lower tiers. If you can give more though, we also have some amazing, more personalised gifts available.
Find us here
Join us on social media for project updates, photos and behind-the-scenes sneak peaks as the show comes together!
Facebook: Who Done It?
Instagram: @WhoDoneItYork
Twitter: @WhoDoneItYork
Help us succeed!
Who Done It? cannot happen without help from your generosity and donations, we would really appreciate any amount you can give.
We understand that not everyone is in a position to donate but please spread the word by sharing the project on social media and telling your friends!
This show has a lot of potential and you can help it to succeed, please support us to make this the best show it can be in any way you can!
Thank you from everyone on the Who Done It? team,
Emma, Harris, Jess, Lydia, Carys, Zoë and Helena